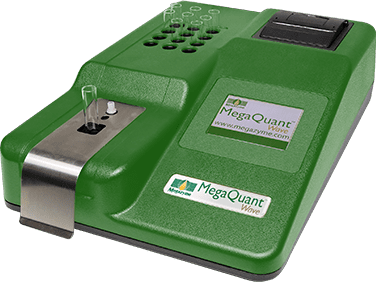 A low-cost, compact, robust, standalone spectrophotometer
Fully automated data analysis (accounts for individual sample dilutions)
Pre-installed protocols for use with an extensive range of Megazyme Test Kits
Twice as many tests using Megazyme Test Kits (option to use half assay volumes)
Exclusive software capable of performing sequential reactions
Use as a standard spectrophotometer in absorbance mode (MegaCalc™ compatible)
Pre-installed Megazyme Protocols
Acetic acid (K-ACETRM)
Acetaldehyde (K-ACHYD)
L-Arabinose/D-Galactose (K-ARGA)
Ascorbic acid (K-ASCO)
Citric acid (K-CITR)
Ethanol (K-ETOH)
Formic acid (K-FORM)
D-Fructose/D-Glucose (K-FRUGL)
D-Gluconate (K-GATE)
Glycerol (K-GCROLGK/K-GCROLGK)
D-Glucose (K-GLUC/K-GLUHK)
D-Lactic acid (K-DATE)
L-Lactic acid (K-LATE)
D/L-Lactic acid (K-DLATE)
Lactose/Galacto
se (K-LACGAR)
L-Arginine/Urea/Ammonia (K-LARGE)
D-Malic acid (K-DMAL)
L-Malic acid (K-LMAL)
D-Mannitol/L-Arabitol (K-MANOL)
Primary amino nitrogen (K-PANOPA)
D-Sorbitol/Xylitol (K-SORB)
Succinic acid (K-SUCC)
Total Sulphite (K-TSULPH/K-ETSULPH/K-SULPH)
Free Sulphite (K-SULPH)
Tartaric acid (K-TART)
Urea/Ammonia (K-URAMR)
D-Xylose (K-XYLOSE)
Technical Specifications
Photometric
Linear Measurement Range:
Tube or Cuvette – 0.0 to 3.0 Absorbance Units (A).
Photometric Accuracy:
+/- (1% of the reading + 0.005A).
Stability:
Drift of no more than 0.005A in 8 hours/bichromatic.
Light Source:
Tungsten lamp with lamp saver feature.
Standard Wavelengths:
340, 405, 505, 545, 580 and 630 nm. (alternate filters available from 340 to 700 nm).
Filter Type:
IAD hardcoat interface, 10 nm half bandpass.
Tube Size:
12 mm round is standard.
Minimum Sample Volume:
1 mL for 12 mm round tube. 250 µL for flowcell.
Electronic Display:
Interactive touch-screen 3.5" LCD, colour graphic display.
Printer:
Thermal dot matrix, with graphic capability.
Power Requirements:
115V or 230V AC, 1.5A, 50-60Hz (universal input).
Interface:
USB mouse (option).
software
Exclusive custom software capable of up to 4 absorbance reads per sample to accommodate sequential reactions.
Speed:
Reads, calculates and prints results, 3 seconds per tube
Calculation Modes:
Single point calibration by standard or factor, multipoint calibration with point-to-point curve fit, rate by standard or factor (batch or singly). Calculation mode able to account for sample dilution factor.
Test Menu:
120 open channels to store protocols. Stores all parameters including wavelengths, calculations, unit codes, linear and normal ranges, rate timing, standard values, test names and previous standard curve. Supplied with pre-installed protocols for Megazyme test kits.
OTHER
Temperature Control:
Read cell and incubation block, user selectable.
Enclosure:
Painted flame-retardant ABS plastic cover and base.
Dimensions:
Approx. 9 x 13.5 x 5 in. (24 x 34 x 13 cm) weighs 6.5 lbs. (3 kg).
Certifications:
NRTL listed, CE mark.